A comfortable accommodation in perfect Aeolian style
The house is located on the ground floor of the building to the east, rebuilt in 2017. Previously, it was used as a summer residence. Today, after being rebuilt, it is the ideal place for a couple (or for a couple with children), who enjoy comfort, with its roomy living area, double bath and a wide terrace in front, featuring an impressive olive tree, hence the name of the Casetta, protecting the garden with its Mediterranean plants and succulents, overlooking the sea and adding to the beauty of the view from the terrace.
From the parking area, a short slope and a stone path through the garden lead to the Casetta. Access is from the terrace, in Aeolian style with its 'bisuoli' (wall seating), 'pulere' (columns), and thatched roof, table and chairs, sunbeds and armchairs, from where to enjoy the beautiful, panoramic view to the east of the islands of Panarea and Stromboli. The main entrance opens into the living area with sofa bed, the kitchen to the right and the first bathroom ahead. On the left is the bedroom with second bathroom, and direct access to the terrace.
The Casetta and terrace are paved with precious Sicilian terracotta, treated to protect it, with a natural surface. The Casetta is surrounded by the garden with areas for sunbeds and for reading, outdoor showers, the laundry area and other facilities. Close to the Casetta are bars, restaurants, a supermarket, petrol station, pharmacy, health centre, car and scooter hire, boat hire, cash machine, post office.
Ulivo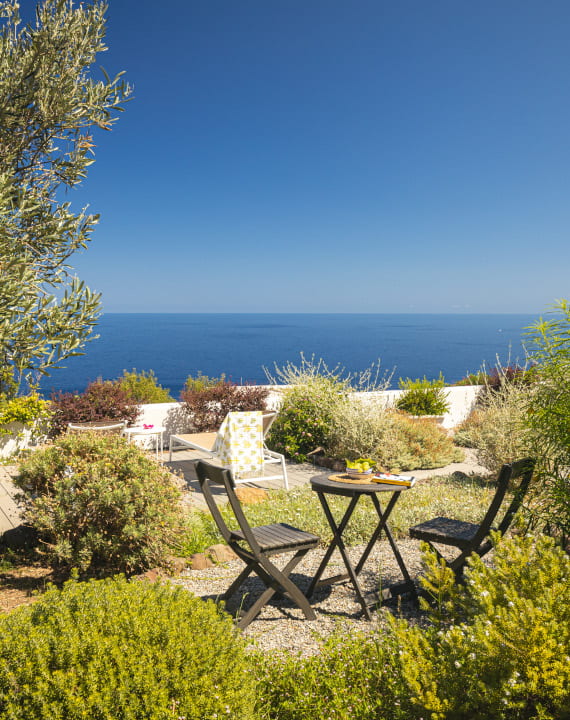 75 mq

1 fully-equipped kitchen
1 LIVING area
2 bathrooms with shower and toilets
1 terrace with sea views
table, chairs, sunbed and armchairs
Check in: 2:00 p.m. Check out: 10:00 a.m.
Final cleaning
€ 50,00
double if pets are present / further cleaning on request
Bed linen/towels
€ 15,00 per person
(further change on request)
Laundry
shared facilities
self service
Smoking only permitted in outdoor areas
Find out about availability ...
Plan your holiday in Salina and book at Le Casette di Malfa by selecting a period among those available for La Casetta dell'Ulivo.
DISCOVER THE OTHER CASETTE DI MALFA